Products Detail
COMPRESSED NITROGEN GAS (N₂)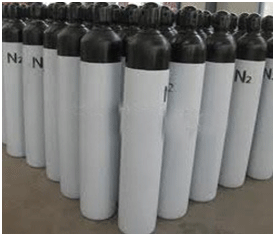 Nitrogen is a colourless, odourless, tasteless and mostly inert diatomic gas that constitutes 78.1 % (by volume) of the air we breathe.

We are leading suppliers of Compressed Nitrogen Gas and we offer it in a variety of purities and concentrations. This gas is widely used for gas chromatography and industrial purpose. Nitrogen gas is also used to produce electronic parts such as transistors, diodes and integrated circuits.

At the time of dispatch, the cylinders are quality tested to make sure that the weight of the cylinder is accurate.



Application:

Nitrogen is widely used in the following industries:

Chemicals, pharmaceuticals, petroleum processing, glass and ceramic manufacture, steel-making, pulp and paper manufacture and healthcare.
Our Specification:
Compressed Nitrogen Gas (N₂)

High Purity > 99.998%
Low Purity > 90%
*Capacity

2.00 m&sup3 - 10.00 m&sup3
*Schemes:

1. We refill cylinders received from the customers` end.
2. We offer cylinders on rental basis at competitive prices.
3. We also offer outright purchases.
4. We provide transportation at a reasonable rate.